New 2022 Volvo XC90 SUV In Columbus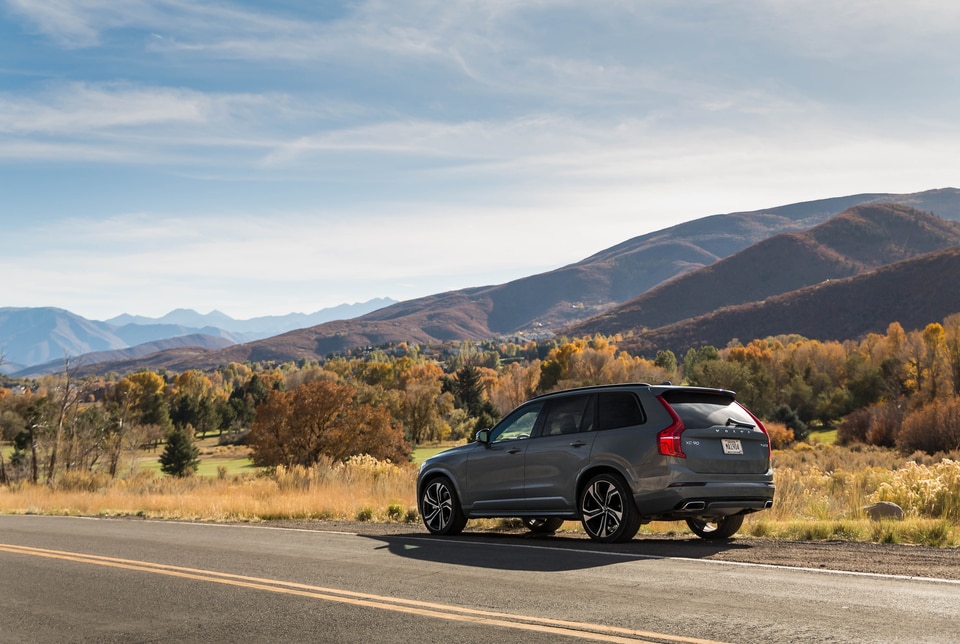 Tour the Roads of Lancaster, OH, Westerville, and New Albany in a New Volvo XC90 Available Today Here at Byers Volvo Cars in Columbus, OH
The pinnacle of Scandinavian engineering and design waits for you in the new Volvo XC90. With the latest technology outfitted between you and the road and a vast array of interior amenities and creature comforts from home at your fingertips, it's hard not to want to drive away in this new SUV. The sleek exterior is matched by an equally refined and meticulously detailed interior. We're almost certain you'll find yourself simply enjoying the ride of this fantastic Volvo model, no matter the weather and traffic outside. We've been sure to include a variety of Volvo XC90 SUVs in our selection here at Byers Volvo Cars. So, end your search for your future vehicle with us. We promise you'll be pleased you did.
Powertrain Options
The Volvo XC90 comes ready to be driven by three available powertrains. Each offers the classic performance the Volvo brand is renowned for. It's up to you to decide how mighty and imposing you'd like your presence to be on the streets of Westerville and Lancaster, OH.
Direct-Injected Turbocharged engine: Generates 250 horsepower and 258 pound-feet of torque with an estimated 28 highway mpg rating.
Direct-Injected Turbocharged and Supercharged engine: Produces 316 horsepower and 295 pound-feet of torque without sacrificing efficiency thanks to an estimated 27 mpg rating on the highway.
Direct-Injected Turbo and Supercharged engine with an Electric Motor: For those in search of the ultimate performance-based SUV- look no further. This powertrain generates 400 horsepower and 472 pound-feet of torque thanks to the electric motor that works in harmony with the brawn of the supercharged engine. What's more, is that this mighty engine can reach an estimated 62 highway mpge. Cruise on with confidence.
Interior Space: The Key to a Versatile SUV
Byers Volvo Cars is completely stocked with updated 2022 Volvo XC90 luxury SUVs. Given high demand in Newark, OH, associated with this larger Volvo SUV seating seven passengers, it may prove difficult to keep Volvo XC90 trims of Momentum and Inscription in stock.
And with Volvo XC90 Recharge plug-in hybrid SUVs rounding out the Byers Volvo Cars' inventory near Lancaster, there's unbelievable choice when it comes to these updated, Volvo luxury SUVs. Save on your next XC90 with our new Volvo specials.
Speaking of seating, the Volvo XC90 can carry up to seven individuals. Young families near Columbus, OH will also greatly appreciate the integrated booster seat in the middle of the second row. Rest easy knowing that every passenger is riding safely and comfortably in the new Volvo SUV.
Safety and Entertainment Technology
The new Volvo XC90 is all about safety. That's why when you pick up this advanced SUV, you'll have an array of standard safety technologies guiding you through rush hour traffic and the bustling streets of Lancaster, OH. These features include:
City Safety Collision Avoidance Technology
Lane Keeping Aid
Road Sign Information
Run-off Road Mitigation
Oncoming Lane Mitigation
Volvo XC90 - The Larger Luxury SUV of the Byers Volvo Cars' Family
There are certain parameters specific to Volvo XC90. With all-wheel drive running standard and the 2L, four-cylinder engine producing 250 hp and generated torque of 258 lb.-ft., there's not much standing in the way. This realized in cargo spacing comprising 85.7 cu.-ft., and the capacity to tow up to 4,000-lbs. And generous is the 18.8-gallon fuel tank.
Interior wise, expect a panoramic roof to welcome autumnal, Ohio skies and leather-wrapped seating surfaces. Choice of driving modes will enable active air suspension in real-time for the raising and damping of Volvo XC90. And one mustn't forget all those technological essentials featuring a head-up driver display, seamless smartphone integration and wireless device charging.
Volvo XC90 Recharge - Plug-In Hybrid Efficiency
With Volvo XC90 Recharge, all those defining Volvo SUV attributes remain. The only difference being electric powering of up 18-miles on a single overnight charge. This reduces tailpipe emissions for enhanced Westerville air quality and lessens the need of fueling stops.
And upon acquisition of Volvo XC90 Recharge, federal tax credits worth thousands of dollars may be claimed. So, with less frequent servicing, cash saved on fuel and tax-credit savings, the cost-benefit analysis is overwhelming.
Byers Volvo Cars - Fully Stocked With Volvo XC90 Models
Visit our local Columbus area dealership for more information on Volvo XC90 luxury SUVs.
With even more upgrades to be found, you can't afford to not check out the Volvo XC90 and
compare differences between other Volvo SUVs
.